---
Changing the way you wash your horse 
Making it easier, faster, more effective and saving you money on shampoo!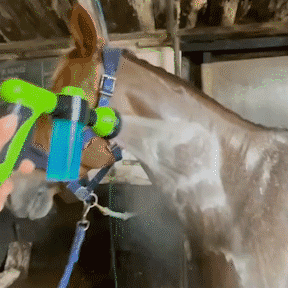 No more soapy wet arms!

Up to 2 times increased water pressure. Mud, poop, sweat you name it - it'll vanish!


Super easy to use
Simply attach to your everyday hose, undo the soap dispenser, fill it up with shampoo and let the magic happen. (There is a mode for water only).




Why buy from us? 

100% satisfaction guarantee or your money back. We know you'll love your Pony Jet so we even offer a 60 day free refund policy. But we know you're not going to need it. 


FAQ's 
Q: Does it really get into the hair?
A: Yes! With up to 2 times more pressure than an average hose. There's no need to get on your hands and knees and scrub. Even with grey horses!

Q: How long does the shampoo inside last?
A: Up to 30 minutes whilst constantly on! The shampoo filters into the water on soap mode making it long-lasting and your saving on shampoo usage! On average 3 wash sessions.

Q: Can I use it for dogs or cars?
A: Yes! Works perfectly on all types of pets. 
Q: Does it work with any shampoo?
A: Yes, any type of shampoo. 
This section doesn't currently include any content. Add content to this section using the sidebar.